Etscorn Campus Observatory
---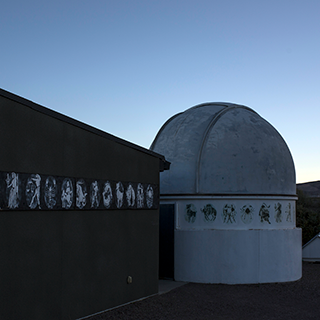 The Frank T. Etscorn Campus Observatory, dedicated on April 25, 1993, is located on the New Mexico Tech campus of New Mexico Tech. The observatory is one of the sites of the annual Enchanted Skies Star Party (ESSP). In addition, many public and private star parties are held there throughout the year.
The Etscorn Campus Observatory was developed when the New Mexico Tech Astronomy Club received funding from Dr. Frank Etscorn, their faculty advisor.
The observatory is surrounded by earth berms and is strategically located to avoid as much light pollution as possible from campus and town. Several telescopes are available for use at the observatory, the most noteworthy ones including a 20-inch Dobsonian inside a 15-foot dome, both on loan from club member Ken Mason, and a Celestron C-14 on a Paramount GT-1100 mount, on loan from the NMT Physics Department. The building itself is operated and maintained by the NMT Astronomy Club. The Club is in a joint research agreement with the NMT Physics Department.
The Summer Science Program operates the telescopes 6 weeks each summer. NMT uses the telescope the rest of the year. In 2005 a control facility was added to the observatory. This facility contains a control center, student work space, storage space and a resource room.
The main building, apart from the dome, measures 12 × 24 ft., and consists of two rooms. The front door opens to an office/workshop space, and then a door opens from there to the observing room, which houses the C-14. An unusual feature of the observatory is its automated roll-off roof, which uses a garage-door mechanism to open and close for observing. Behind the main building, there is a raised deck, where a 6-inch Shiefspiegler is kept under a rotating dome. To the side, there is a storage shed which contains an 8-inch Newtonian and a 13-inch Dobsonian. Building plans are available if you are interested in constructing a similar facility.
Thanks to a grant from the U.S. Dept. of Education we added a 'Resource' building to provide educational outreach to schools. It is a fairly large building surrounding the 16 ft. dome. The dome itself will be raised so that it can be entered through standard doors. The building includes a large 'resource' room, kitchen, bathroom, control room (for the telescope in the 16 ft. dome) and a storage area/shop.