Bureau of Geology and Mineral Resources
---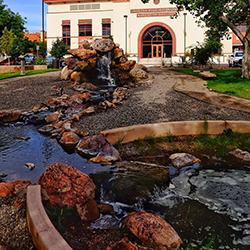 The New Mexico Bureau of Geology and Mineral Resources is the official state agency responsible by law for original investigations of geology and mineral and water resources in New Mexico. The Bureau investigates, evaluates, and disseminates information on geology, mineral, water, and energy resources, and extractive metallurgy—with emphasis on aiding the discovery and responsible development of nonrenewable resources for the benefit and well‐ being of the citizens of this state. The director of the Bureau also serves as State Geologist.
Although primarily a technical organization providing counsel to state and federal agencies, as well as extractive industries, the Bureau also serves all interested citizens by advancing the understanding of the state's geology and natural resources. Environmental geology and geohydrology are increasingly important parts of the Bureau's service and applied research.
The Bureau's Mineral Museum represents one of the most outstanding mineral collections in the United States. The collections contain more than 16,000 mineral, rock, mineral product, mining artifact, and fossil specimens. Specific displays highlight minerals from the New Mexican mining districts and the southwestern United States, as well as fluorescent minerals. Other significant specimens from around the world are also displayed.
The information assembled by the Bureau staff of scientists is provided to the public through maps, publications, and direct response to individual inquiries. Publications are distributed throughout the world on an exchange agreement with other geological surveys. Exchange publications are kept for reference in the Tech library. By furnishing vital scientific information and advice, the Bureau aids in the establishment of new mining and petroleum operations and new energy and mineral industries in the state, as well as in the expansion and diversification of existing resource industries and the state's water supplies.
The extensive laboratories of the Bureau are designed and equipped for analysis and experimentation in a wide variety of areas useful to the geosciences. These facilities are used not only in the Bureau programs, but also are available for use in instructional programs by students majoring in geology and metallurgy, and in materials, mineral, and petroleum and natural gas engineering. A substantial number of graduate and undergraduate students are employed by the Bureau. Students work on research projects and in laboratories and offices. In addition, many of the staff also teach classes and advise on student projects.